No actual takeaway for me, because I'm a chronic overorderer. Big surprise.
10 days in to try and wrestle back control of my life and eating habits and some of it is going well, some of it not so much.
By the end of my first week I realised that half a cup of oats in bircher is too much oats, and also that breakfast made on Sunday doesn't taste good by Thursday. So this week I made 2 days worth using a 1/3 cup, I reckon 1/4 is enough though. Also I ran out of oats, so it's either 'toast or go shopping'.
Planning what I'm going to eat when has been really useful however doesn't allow for impromptu things cropping up, which is a large part of my working week. On 2 of the days I ended up going out for working lunches which on one day meant I had a cheese and pickle sandwich for dinner instead of the planned Chicken Panang curry (the two aren't really comparable), and then on another meant I had 2 restaurant meals which was undeniably lovely but always makes me worry I'll end up like Mr Creosote, even if I'm going for lighter options. So more flexibility needed, which seems at odds with the whole experiment.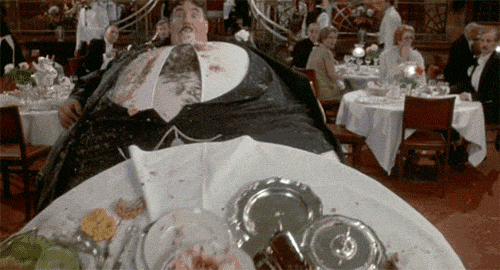 Snacking is a big issue for me. I'm a total grazer and if there's food in front of me I will pick constantly at it, without really thinking. Celery is usually the key to stopping this, so that'll be added to this week's shopping list.
Another thing that's thrown me off this week is inadvertantly poisoning myself on Monday night. Tuesday became about eating whatever would stay down… which ended up being the pierogi I'd bought for Thursday. Hardly the end of the world but ideally I'd write a meal plan on Sunday and not have to change it, just look at it to see what I've got planned. One to ponder for next week.
Plus points though…. I'm drinking LOADS of water which is good. Cooking smaller portions and eating regularly seems to be sorting my appetite and cravings out. I kind of miss chocolate though and think I'm going to treat myself to some 85% dark.
Tonight is oven-baked bacon, mushroom and tarragon risotto which is probably massively insulting to any Italians but tastes bloody gorgeous.
1 onion or shallot, chopped
1-2 cloves of garlic, crushed
Small pack of pancetta
1/2 punnet of chestnut mushrooms, sliced
Splish of white wine
75g risotto rice per person (I think?)
Chicken stock made up with about 300 mls water
Handful of tarragon, chopped
1/2 lemon
Handful of grated cheddar (no stronger than medium)
1. Gently cook the shallot and pancetta in a bit of olive oil for about 5 mins. Add the mushrooms and cook for another couple minutes, then chuck in the garlic and cook for 1 minute more.
2. Chuck in the rice, stir to combine, add the wine and let it cook into to the rice. Pour in the stock and bring to a light boil for a couple of seconds, then turn the heat down.
3. EITHER cover with a lid if your pan is oven proof or pour it all into a casserole dish and cover that, then bung it in the oven for 25 mins. I usually set my oven to 175 Fan, which is about 200 leccy. Gas I'd do at about 7 as I cook everything on 7 in a gas oven and have no idea what that actually works out as.
4. After 25 mins take it out and look at it. If it looks dry splash in some more water and stir it in. If it looks still to wet chuck it back in the oven. If it looks like something you want to eat, stir in the tarragon, the grated cheese, a knob of butter and a squeeze of lemon juice. Stick the lid back on and leave it for 5 mins.
5. Take the lid off, stir it again, then serve it with some salad and a bit more cheese on top.
I usually make enough for 2 and then have the second serving for lunch the next day fried up with a couple of handfuls of kale and a fried egg.